Sneakers were around long before 1985. But it isn't hyperbole to say that sneaker culture as we know it today began in large part due to the arrival of Michael Jordan's first signature sneaker, the Air Jordan 1, in the mid-'80s.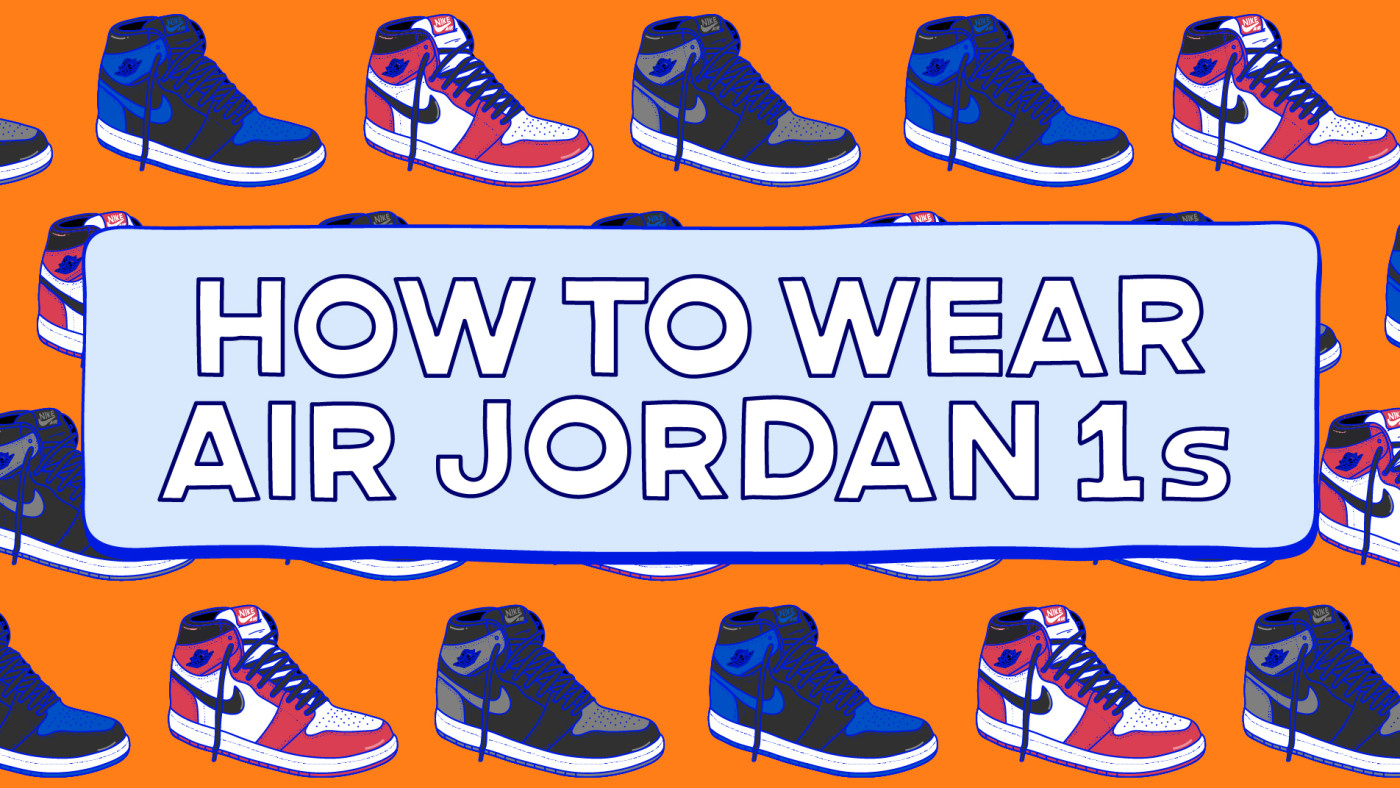 Over three decades later, the Air Jordan 1 is arguably bigger than it's ever been. While OG colorways like the "Bred," "Royal," or "Shadow" are still the gold standard for plenty of people, Jordan Brand hasn't slowed up its efforts to add to the extensive catalog of colorways. These days, 60+ colorways of the 1 releasing in a year isn't uncommon. Music's biggest stars like Travis Scott and J Balvin have outfitted the high-top with their own unique colorways too. But you don't need to be a stylish celebrity to rock some 1s. Chances are, even your homie who knows nothing about sneakers has added a pair of 1s to his wardrobe at this point. With the exception of maybe a pair of white Air Force 1s or black Chucks, the Air Jordan 1 is the model that symbolizes sneakers as a whole for many people.
We could go on for much longer about the Air Jordan 1. Actually, we did. But the next step after you acquire a pair of 1s is knowing how to rock them. By no means is this meant to be a definitive ruling on the matter. Consider it more of a gentle nudge in the right direction if you find yourself looking for some answers.
With 1s hitting new levels of mainstream exposure each passing week, we felt it was time to give some tips to the masses. All things considered, the 1 is pretty versatile, but there are still a few pointers to consider. From the right pair of pants to the perfect way to make your pair of 1s stand out from the pack, check out our guide on how to wear Air Jordan 1s below.
High, Mid, or Low?
Image via Complex Original
Yes, posing this question might be sacrilege to some people, but the fact of the matter is, all heights of the Air Jordan 1 are fairly popular these days. The OG Air Jordan 1 High is still far superior to the others, but the stigma around Mids is slowly fading. The same goes for Air Jordan 1 Lows. Once guaranteed outlet fodder, Travis Scott (shocker) and his Low collab from 2019 put some juice into low-top 1s. Not everyone abides by this rule of thinking though, so you may still get roasted for bragging about your new 1s to your friends and showing up to the party in a pair of Mids. Still, it isn't as clear cut of a rule as it once was. Collabs from Blue the Great and Melody Ehsani are perfect examples of respectable Mid options that have hit the marketplace recently. A pair of Lows can be a solid choice for a laid-back summer fit, too. Choose wisely and combine it with the right shirt and pants, and you'll be in the clear.
OG or New Colorway?
For purists, there are a very select few colorways that are acceptable to lace up. As they say, "Mike didn't wear those." Are the OG color schemes still the best option? Pretty much. But there are still plenty of solid new colorways that you should not stray away from for the sake of a purist's opinion. Wear whatever you like. The younger you are, the less the historical significance likely means to you anyway. That's why pairs like the "Obsidian" from 2019 flip for $500+ on StockX with no historical context whatsoever. Some people just want a shoe they think looks cool. History is important though, especially for a shoe like the 1s. Do a bit of research. It will make your favorite pair that much more important to you. However, there are still 1s that are best left off your feet like these, for example. Leave these on the shelf, too.
Make Sure You Buy the Right Size.
Image via Complex Original
Yes, creasing is an inevitable part of wearing shoes. No matter how much you try to avoid it by walking around like a duck, eventually the toebox is going to show some signs of age. The good news is, Air Jordan 1s are one of the sneakers that don't immediately look disgusting when they get a little creased up. However, we still don't want the toebox looking like a balled up shirt you just pulled out from the bottom of your closet. One of the easiest ways to do this, believe it or not, is to make sure you are buying the proper size. Trying them on is the best way to find out, but generally speaking, 1s run a bit narrow. If your foot is wider, go up half a size. If there are two inches of space between your toes and the front of the shoe, size down. Sure, the store's last size might have been a 12, but remember, you wear a 10.5. If you can't help yourself, use foam inserts to combat the creasing process. They don't keep them completely uncreased forever, but they're a worthwhile investment at around $10 per pack. Just remember, they make things a bit snug.
Make Sure They Compliment the Fit.
Image via Complex Original
This one might go without saying, but please don't just wear your multicolored 1s with everything because you spent a few paychecks for them on StockX. If you can only afford a pair or two of sneakers, make sure to stick to neutral colors like black, white, or grey. We know the "Shattered Backboard" 1s are an amazing colorway, but you can't be wearing orange shoes every day. If you can't resist temptation, there is another solution. Keep your fits neutral. A black or white T-shirt, blue or black jeans, and you will be set. A lot of times, this looks much cleaner than trying to match the exact shade of red or blue from head to toe, anyway. Overly coordinated fits tend to do the opposite of their intended purpose and can look a bit cheesy, but there are always exceptions. Match the colorway of the shoes to an accessory like a hat or a bag. Find a graphic T-shirt with subtle details that use the same colors instead of buying a brightly colored T-shirt to go with your 1s. There's a sweet spot to hit right in the middle of "matchy matchy" and "got dressed in the dark."
Laced Tight or Hangin' Loose?
Sure, when we're young we are taught to tie our shoes tight with two bows dangling over our feet, but as we grow older we eventually find out that there is far more than one acceptable way to lace up a pair of shoes. The Air Jordan 1 in particular is one of the pairs that you often see laced a handful of ways, probably because they come unlaced out of the box. No way is necessarily more acceptable than the others. Some people choose to lace them up to the topmost eyelet and tie them tight for maximum security. While we don't necessarily recommend this maneuver, it can be pulled off sometimes. Please just dont cut off circulation to your feet.
In favor of a more relaxed fit? Keep the two topmost eyelets unlaced, which gives the tongue a bit more movement and allows for your pants to easily sit behind it. You can also just not tie them at all, opting to let the excess laces hang from either side of the tongue. Just make sure you don't have too much loose lace because then you just look like a slob and risk tripping over your laces. And nobody wants that. Just don't stray too far from these methods. Don't bar lace your 1s. Don't wear them laceless like Will Smith wore his Air Jordan 5s on The Fresh Prince of Bel-Air. It won't work. We promise.
Stand Out With a Lace Swap.
Image via Complex Original
While most people stick to the laces that come pre-laced in their sneakers, there are an abundance of Air Jordan 1s being worn these days. Maybe you are looking for a way to stand out from the pack. Maybe you like the look of purple laces in the "Royal" 1s to mimic the look of the oxidized blue laces in a pair of '85s. Maybe you want to go totally out of the box and toss some orange laces into your pair of "Shadow" 1s. Need a pop of color on your new "Neutral Grey" 1s? Laces are an easy way to do that, and the potential is endless. Some people consider it a no-no, but hey, they're your shoes. Do with them as you please. There are plenty of sites on the internet like Laced Up and Rope Lace Supply that are filled with options that shouldn't run you more than $10 to $20.